6 Cacti Mixed Sizes and Coloured Ceramic Pots
Regular price

Sale price

€48.00
Cacti are one of the most common indoor plants seen in homes and businesses around Ireland today. 
Perfect for plant novices, Cacti are by far the easiest plant to care for indoors and have evolved to withstand difficult environments. 
In order to survive, they have evolved throughout the years, modifying their leaves into spines for protection and developing large succulent stems to store scare reserves of water.

Care Level Rating
Care Instructions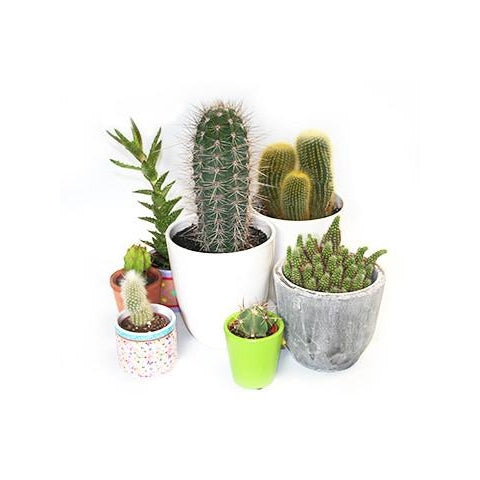 Delivery Options
Orders under €80

5-7 Working Days | €12 Delivery

Orders €80 - €150

5-7 Working Days | €20 Delivery

Orders €150 - €250

5-7 Working Days | €30 Delivery

Orders €250+

5-7 Working Days | €50 Delivery
Have any Plant Care Questions?
We get it, plant parenthood can be challenging sometimes and you might find yourself asking questions like "Help, my plant is dying and I don't know what to do!".
*Deep Breaths* We are here to make your experience with us as seamless as possible. So we've compiled a knowledge hub for you full of frequently asked questions and helpful tips and tricks all with expert led answers!
See our Knowledge Hub