Bunny Ear Cactus - Opuntia microdasys
Regular price

Sale price

€14.00
"Opuntia microdasys" or "Bunny Ear Cactus" is a native to northern Mexico and the desert regions of Arizona but has since become a welcome addition to homes here in Ireland. 
Despite its cute name, this cactus is in no way cuddly! Its paddle-like leaves are covered in closely spaced glochids or small mounds of prickles that are designed to detach when impacted by something
Notes: The price shown is for 1 plant. This variety measures in at approximately 30cm in height.
Care Level Rating
Care Instructions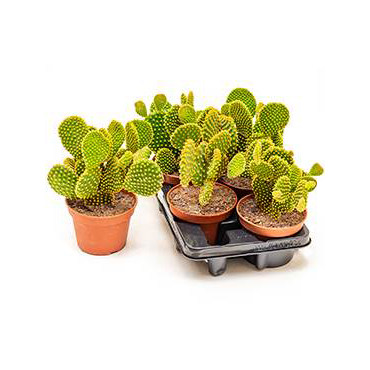 Delivery Options
Orders under €80

5-7 Working Days | €12 Delivery

Orders €80 - €150

5-7 Working Days | €20 Delivery

Orders €150 - €250

5-7 Working Days | €30 Delivery

Orders €250+

5-7 Working Days | €50 Delivery
Have any Plant Care Questions?
We get it, plant parenthood can be challenging sometimes and you might find yourself asking questions like "Help, my plant is dying and I don't know what to do!".
*Deep Breaths* We are here to make your experience with us as seamless as possible. So we've compiled a knowledge hub for you full of frequently asked questions and helpful tips and tricks all with expert led answers!
See our Knowledge Hub