Rhipsalis clavata- Mistletoe Cactus
Regular price

€57.00

Sale price

€37.00
The "Rhipsalis clavata" or "Mistletoe Cactus", a native to South America, is part of the Rhipsalis genus which comprises of over 60 species,
Most are epiphytic (which mean they grow naturally in trees) and their beautiful decorative hanging foliage makes them excellent hanging basket specimens.
The blooms are sporadic all season and consist of very small, white 'bell' flowers, followed by small yellow/red fruits.
Notes: This variety measures in at approximately 25cm in width and 40cm in height
Care Level Rating
Care Instructions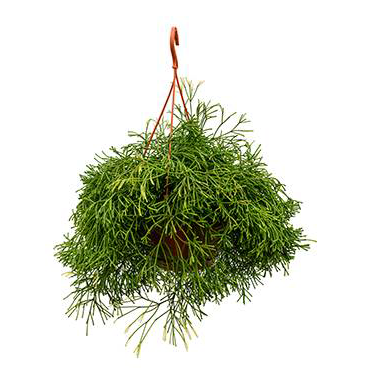 Delivery Options
Orders under €80

5-7 Working Days | €12 Delivery

Orders €80 - €150

5-7 Working Days | €20 Delivery

Orders €150 - €250

5-7 Working Days | €30 Delivery

Orders €250+

5-7 Working Days | €50 Delivery
Have any Plant Care Questions?
We get it, plant parenthood can be challenging sometimes and you might find yourself asking questions like "Help, my plant is dying and I don't know what to do!".
*Deep Breaths* We are here to make your experience with us as seamless as possible. So we've compiled a knowledge hub for you full of frequently asked questions and helpful tips and tricks all with expert led answers!
See our Knowledge Hub